THE STORY OF HOMESTEDT
Founded by husband and wife team of Tom Roberts and Anna Aberg, Homestedt is dedicated to all that makes a home.

Since creating many magical spaces and experiences at our first Catskills venture, Livingston Manor Fly Fishing Club, we evolved most notably in two directions. Firstly design, where we cut our teeth in some extensive renovations of commerical and residential upstate properties and most recently the development of Homestedt Houses. Secondly retail, where we primarily specialise in sourcing, designing and selling all the small things that make a home special. Most recently we're expanding into the North Branch Cider Mill - where we'll be restoring a piece of Catskills history to its former glory while adding some of our signature Homestedt touches.

Homestedt is about all things home, and for us home is a place of warmth, welcome, and unique character. It's these same characteristics that we look to weave into all that we do.
Welcome to Homestedt.
Welcome home.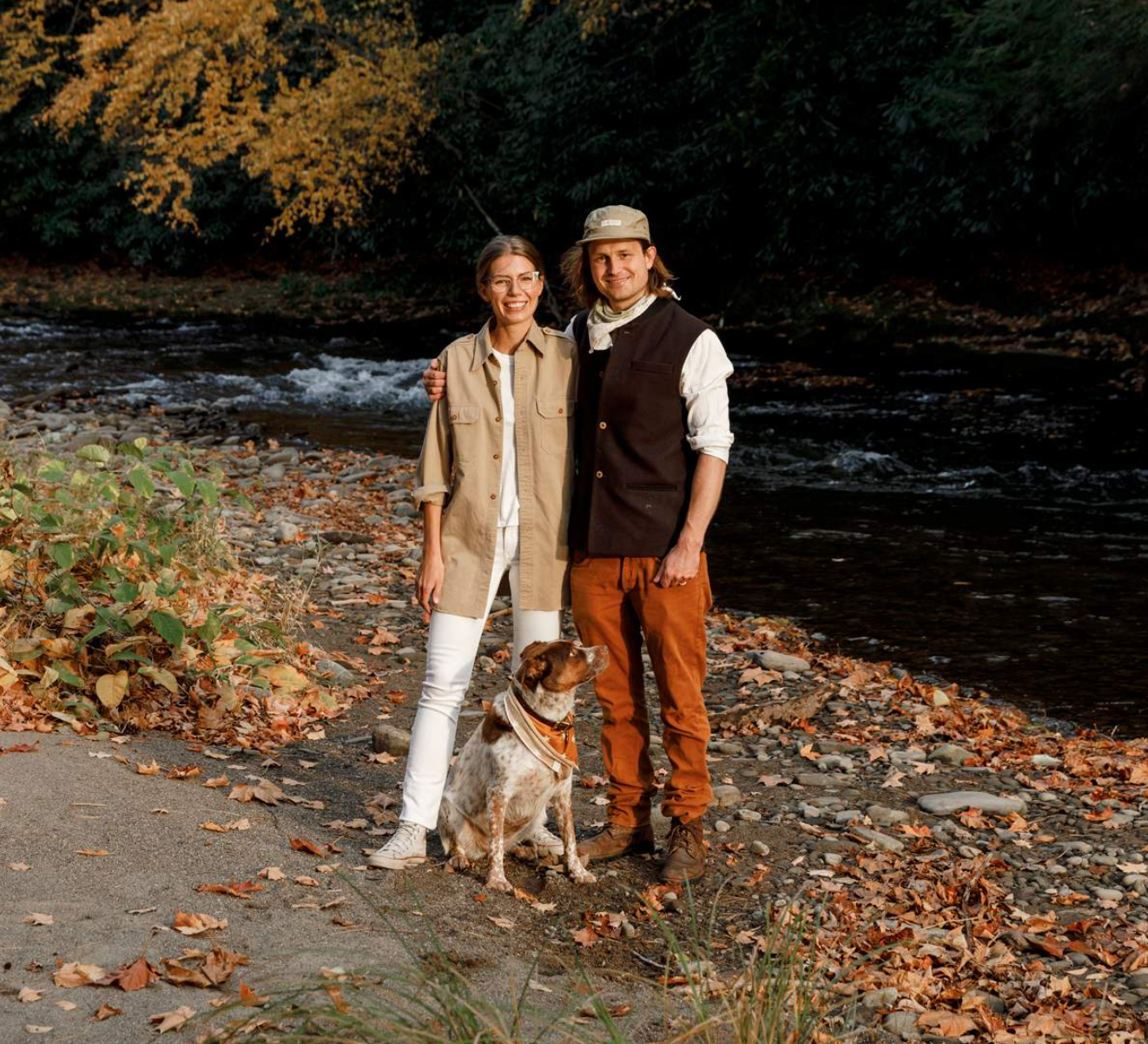 ABOUT US
Homestedt is was founded by husband and wife team Tom Roberts and Anna Aberg.
Anna grew up in Sweden living in Gothenburg and Stockholm and spending summers in the rolling fields of Skåne and the rugged islands of the west coast. It's perhaps this background that gave her an eye for design, and an appreciation for historic buildings. After leaving Sweden she worked in New York City in marketing and hospitality before making her way up to the Catskills.
Tom grew up in England, spending time in Scotland, Cornwall and all over the English countryside. An explorer at heart Tom studied Geography before working on sailboats in South Africa, spending a year selling vodka to Russians, and has trekked through the jungles of Borneo and climbed peaks in the Himalayas. Now Tom puts this inquisitive spirit to use finding the unique and often overlooked products for sale in the shop.
They now live on Shandelee mountain just outside Livingston Manor with their dog Biscuit in a ranch house they painstakingly restored.
ODE TO THE LAND OF LITTLE RIVERS
A love letter to the Catskills.
Shot with our friend Peter Crosby during the waning days of fall.
VIDEROGRAPHY: Kindred Projects
PRODUCED BY: Homestedt
CREATIVE DIRECTION AND POEM: Homestedt
HOMESTEDT IN THE PRESS
Over the years we've caught the eyes of some wonderful writers and journalists, and been lucky enough to be featured in books, magazines and newspapers.
From in flight magazines in the middle east, to business newspapers in Sweden. From the New York Times to Remodelista, click below to see a summary of some of our favorites.
homestedt press clippings